Discover more from Timeless & Timely
Answers to present challenges are found in the past. Content for life-long learners who care about values.
Over 8,000 subscribers
"It is a riddle wrapped in a mystery inside an enigma, but perhaps there is a key." — Winston Churchill, 1939
If you're a regular fan of any series — books, TV shows, or even newsletters(!) — you have an advantage.
For those who pay attention, you have a secret weapon: your inside knowledge means you're more likely to spot hidden gems. Easter eggs, if you will.
Easter eggs are a wink and a nod to a community of insiders — a coded language that indicates you're part of something special.
---
Alfred Hitchcock was a master of Easter eggs. He famously made cameo appearances in nearly every movie he directed.
Movie-goers were certain that if they saw a Hitchcock film, they could anticipate a cameo. In some ways, waiting for Hitch to appear and scanning the screen for his portly presence was just as suspenseful as the story itself.
Conscious of this inside joke, Hitchcock pulled off a gag for his dedicated long-term fans — one that took six years and three films to complete. Only the most attentive aficionados picked up on it.
Here's how it played out:
In Spellbound (1945), we see him exiting an elevator carrying a violin case.
In The Paradine Case (1947), he's outside of a train station, holding onto a cello.
And finally, in Strangers on a Train (1951), he waits patiently for a passenger to disembark before hoisting a double bass up the stairs onto the train.
If you have a true fan base, the results can be gratifying and rewarding for both the creator and the audience, especially if it's a long game.
But here's the thing: along the way, you need to keep the interest and attention of your customers, fans, employees, or anyone else whom you'd like to reach.
You can't expect them to be there for the payoff if you've given them no reason to stay with you.
The quality of the individual parts must be equal to — if not greater than — the quality of the whole
.
Thomas Cole did this effectively with his series of oil paintings The Course of Empire from 1833–1836:
"It is notable in part for reflecting popular American sentiments of the times, when many saw pastoralism as the ideal phase of human civilization, fearing that empire would lead to gluttony and inevitable decay."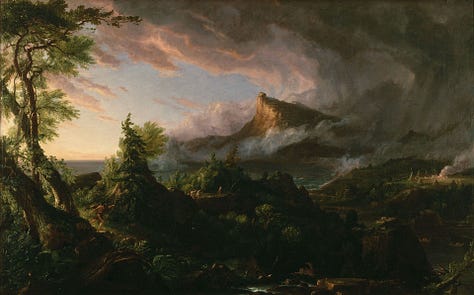 He shows the beginning of a civilization from a rugged natural state to its early blossoming, to becoming a full society, followed by its downfall, and nature once again taking over.
In the previous edition (The Cyclical Nature of Things), I mentioned a rabbit hole of other editions of Timeless & Timely for those motivated enough to explore — kind of like a nesting doll of newsletters.
And rather than arming you with a digital pickaxe and asking you to mine for nuggets of writing gold, I'm going to provide the complete set of essays — just for the insider community of Timeless & Timely.
That's right: the answer key is available in
A Newsletter of Newsletters
. Why a separate edition? Because it was too long for this one.
And quite frankly, it deserves its own entry. There are 25 — twenty-five! — past newsletter entries to highlight things related to change, hope, character, duty, humility, and other virtues of leadership
And you'll get them all — in one remarkable, bookmarkable place.
It's available just for members of the Ampersand Guild, our paid subscriber community, and you can get it here:
Timeless & Timely is a family of publications that brings the past up to the microphone of the present to make you a better leader, communicator & human.
Thanks, and I'll see you on the internet.
* ICYMI there's an Easter egg in the painting at the top. Fifteenth-century artist Jan van Eyck couldn't resist sneaking himself into his famous Arnolfini Portrait. In a not-so-secret act of self-promotion, van Eyck wrote "Jan van Eyck was here 1434" on the wall in Latin behind the two figures.
But far less noticeable are the other two figures in this painting. If you take a close look at the mirror on the wall, you can see two people who appear to be standing about where the "viewer" of this scene would be. It is widely believed that the one with his hand raised is supposed to be van Eyck.