Discover more from Timeless & Timely
Putting our present challenges in perspective with lessons from the past.
Over 8,000 subscribers
Focus (A Tale of 3 CEOs)
If you want to succeed, develop a clear and concise strategic plan — and stick to it.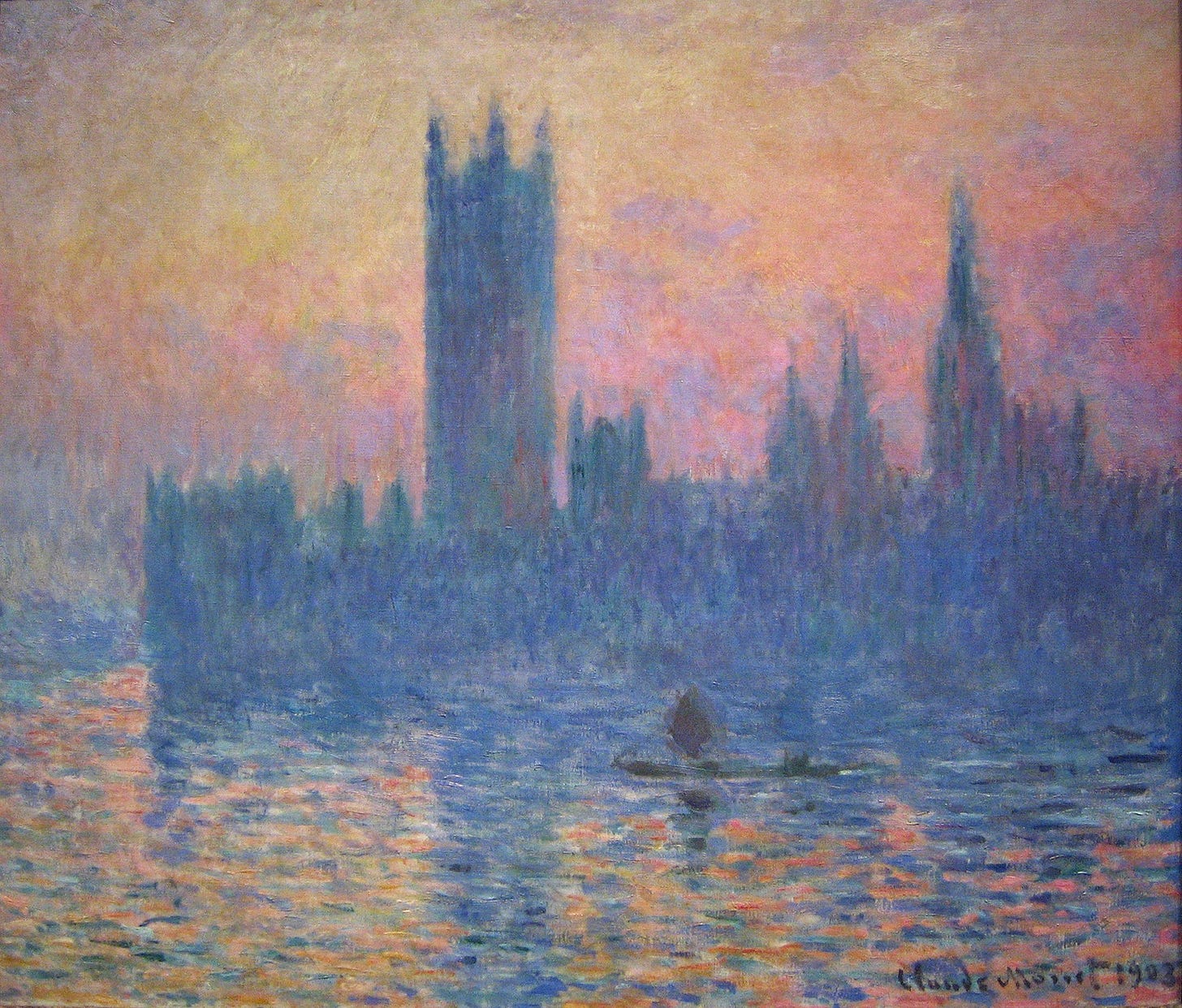 ---
"We are what we repeatedly do. Excellence, then, is not an act but a habit." — Will Durant, 1926
---
If you enjoy this essay, there's a follow-up piece available only to subscribers each week. Click here for free access:
---

If you want to improve at anything, you need to put in the effort. And that means what you don't do is just as important as what you choose to do.
As CEO, part of your job is Decider-in-Chief. A number of decisions land in your lap.
And there were two legendary CEOs in the news this week, who made major decisions at critical points in their companies' fortunes.
I was reminded of a series of decisions that Alan Mulally made shortly after he joined Ford as CEO in 2006.
When he was ushered into the executive parking garage beneath Ford's World Headquarters building in Dearborn, Michigan, Alan marveled at all of the vehicles lined up there: Jaguars, Aston Martins, Land Rovers, Volvos — all brands that Ford Motor Company owned at the time. But not a single Ford, Lincoln or Mercury, the core brands that built the company.
He wondered how a group of executives planned to turn around a company when they weren't even driving the brands that were central to its heritage. And he realized that he was sitting on a house of brands. In fact, Ford had 97 different models available at the time.
Knowing that the only route to global excellence in automotive was to have a mainstream brand and a luxury brand (think: Toyota/Lexus, VW/Audi, Honda Acura), he embarked on a plan to reduce Ford's brands to Ford and Lincoln only. The rest of the brands were sold off or divested.
And Alan often talked of the "laser-like focus" on what we were doing. It allowed us to avoid distractions and put everything into what would drive the strategy forward.
---
"Concentrate all your thoughts upon the work at hand. The sun's rays do not burn until brought to a focus." — Alexander Graham Bell
---
Back to those two CEOs this week. Each provided a lesson on the importance of focus, albeit in very different ways.
Jack Welch passed away on March 2, 2020. He was the CEO of GE from 1981-2001 and earned the moniker "Manager of the Century" from Fortune. Over the course of his twenty years at the helm, he took the company from a market capitalization of $12 billion to $450 billion.
He did this very methodically, through market leadership requirements, applying the vitality curve to personnel, and by acquisition. Here's what each of those means.
Market Leadership: Welch required that for every market in which GE competed, it would be #1 or #2 in market share. How that was measured varied, but that was the requirement.

Vitality curve: Employees were all ranked, with the top 20% was filled with passion and made things happen; they received stock options and bonuses, the vital 70% in the middle was key to the company and were encouraged to strive for the top tier; and the bottom 10% were eliminated. The company went from 411,000 people to 299,000 in Welch's first five years.

Acquisition: Much of the growth of the company was due to acquisitions, where the company found itself with a TV network, a consulting firm, a financial services arm, and more. During Welch's time, GE became a true conglomerate, with over 600 acquisitions.
What was Welch's focus during that time? Numbers. Performance. Numbers are what they were measured by, and numbers are what drove decision making.
Side notes:
If you don't standardize your measurement process across divisions, you'll have unequal factors of success. How do you define the market? How is the category segmented?

If you treat employees like numbers, they're going to treat you that way too.

Acquiring companies may look fine on the balance sheet, but merging cultures is no easy feat (see #2).
It was a ruthless yet effective machine. Until it wasn't.
---
The other CEO in the news was Bob Iger. Bob was the CEO of Disney from 2005 until he abruptly stepped down last week.
Iger deserves some credit because he's overseen Disney during an uncertain period filled with disruption in global media markets. He must have wished upon a star, because under his leadership the company's market capitalization grew 5X.
Throughout his term, Iger kept his focus on the core strategy of Disney. It's a strategy that the company has pursued for over 60 years, and it's best expressed in this famous strategic plan, sketched in 1957: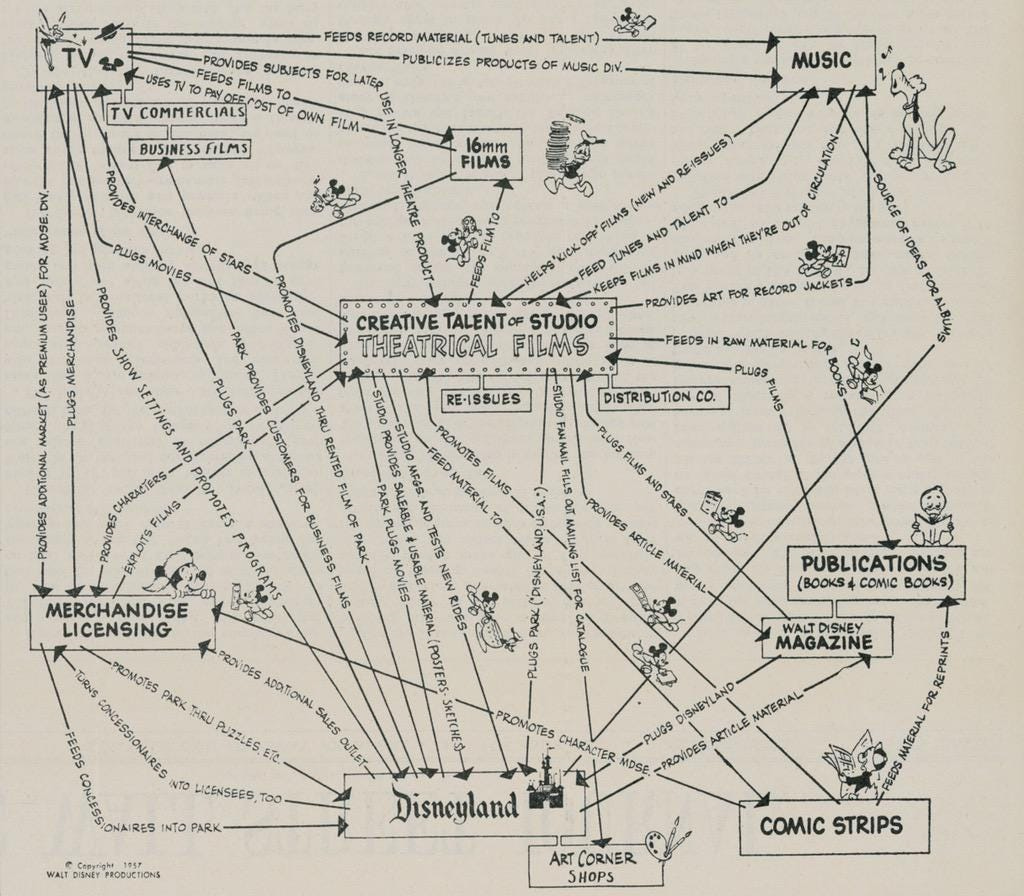 What is Disney? Simply put, it is a content machine. In a recent financial disclosure, Disney wrote that it's Studio and Media Networks divisions are "the content engine of the company."
And Iger's acquisitions have backed up that strategy. Some of the largest — and most successful — have been other movie studios: Pixar. Marvel. Lucasfilm. 21st Century Fox. ABC. Maker Studios. BAMTech.
Those all contribute directly to the core mission and strategy of Disney.
Disney has limited the number of films it produces each year, thus focusing its production and marketing budgets on being able to deliver billon-dollar movies.
And they also feed into the plan above. The distribution channels in 2020 are a little different (and much more diverse) than in 1957, but it's a self-feeding machine. Merchandising. Parks. Television (that's right: let's not forget Disney+).
Walt's original strategy was sheer genius. He created a content-rich empire and then built experiences to bring that content to life.
He debuted a television show (called Walt Disney's Disneyland) on ABC (which Disney later bought) from 1954-1958. He was able to use television to reveal and promote the Disneyland park when it opened in 1955.
He used his characters in a variety of media, and dealt in happiness. Who doesn't want happiness?
But it all came back to content.
And Iger ensured that the strategy was central to everything Disney has been doing over the last 15 years.
The classics major in me won't let you leave this piece without taking a quick look at the origin of the word focus.
focus: A hearth. From Latin focus, hearth, fireplace; fig. home, family; of unknown origin. Used in postclassical times for fire and disease; used in the mathematical sense of a point of convergence by Kepler in 1604. First recorded use for the transfer to center of activity or energy, 1778.
In ancient times, the hearth was the center of the house. Which makes sense that it would evolve into meaning something that it at the center of our actions.
In the same way, our emotions and passions are felt most deeply in our hearts — at the center of our body. Is it any coincidence then, that our focus should be on those things which we're the most passionate about and can pursue with single-minded effort?
Even among some of the world's largest brands, where it's easy to lose focus, the lesson comes back over and over: singularity of purpose, of mind, and of heart, will lead to success.
"Lack of direction, not lack of time is the problem." — Zig Ziglar
Friday's essay will take a look at why hyperfocus and a separation of roles and disconnect from the big picture is dangerous. To receive it, simply click the button below and become a subscriber.
---
No additional links this week; I'm fighting a bad cold (no, it's not coronavirus).
A Heart Replete with Gratitude
"Gratitude is a fruit of great cultivation; you do not find it among cross people." ― Samuel Johnson
Even though I'm under the weather this week, I'm grateful for my health and for the hardworking healthcare personnel who are selfless in their care for others.
---
What else is influencing me? You can check out my idea lists on Amazon and the Timeless and Timely Flipboard magazine I curate.