Discover more from Timeless & Timely
Answers to present challenges are found in the past. Content for life-long learners who care about values.
Over 8,000 subscribers
Empathy as a Differentiator
Sometimes, all that stands between you and a competitor is how you make people feel.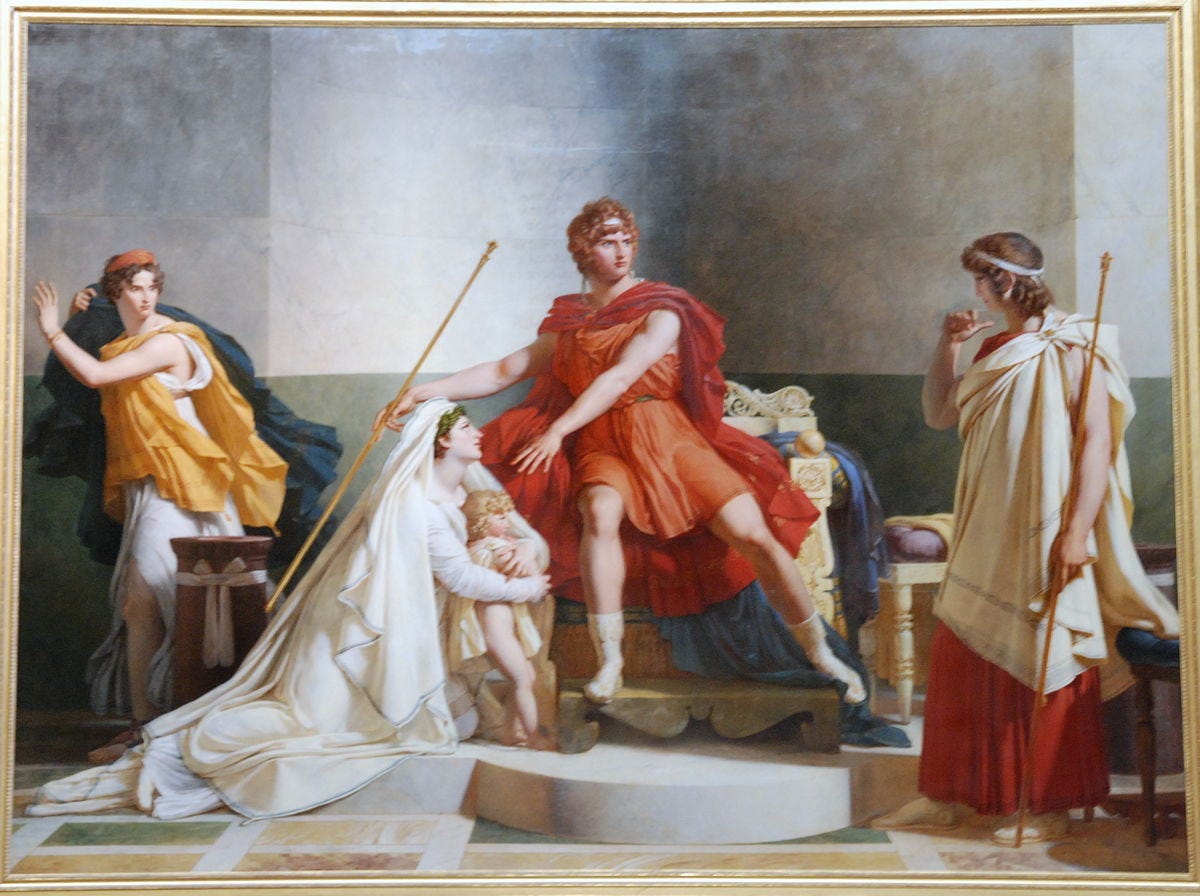 Andromache and Pyrrhus

 by Pierre-Narcisse Guérin, 1810 (Wikimedia Commons, public domain)
---
You're selling a commodity.
It doesn't matter whether your company produces cars, provides consulting services, operates a retail establishment, or makes ice cream.
Whatever it is that you do, you have a competitor that does the same thing, and there's one thing that keeps your customers from defecting.
They may buy someone else's product because it's cheaper. Or more convenient.
But what you you could make them feel a certain way?
If you've ever been on hold for a customer service call — one where you're worked up over an issue — and you're only getting more angry because you have to wait to speak with someone, then you're not going to appreciate the unfeeling and disembodied:
"We regret any inconvenience you may have experienced."
That sounds like something a lawyer might have written.
But imagine if you could make your customer feel relieved, or entertained, or at the very least, listened to.
The simple gesture of saying, "Oh, that's terrible," or "I'm really sorry to hear that," goes a long way.
It puts more humanity into the situation and lets your customer know that there's someone like them at your company.
---
"Acquire the habit of attending carefully to what is being said by another, and of entering, so far as possible, into the mind of the speaker."
– Marcus Aurelius [tweet this]
---
A couple of hundred years before Marcus Aurelius ruled the Roman Empire, Cicero was impressing the Roman people in his turn in the Senate and as a well-known orator with a similar turn of phase:
---
"If you wish to persuade me, you must think my thoughts, feel my feelings, and speak my words."
— Cicero [tweet this]
---
It's not always easy to imagine a situation or the world view as someone else might. But if you can at least show them you're trying, it's a start.